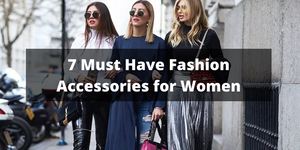 7 Must Have Fashion Accessories for Women
Fashion accessories hold a great importance in any woman's life. These accessories make them feel and look good, eventually enhancing their overall confidence. From funky neckpieces to gorgeous bracelets, there are endless options for trendy accessories to choose from. Here are 7 must-have fashion accessories for women.
Name Bracelet
The first fashion accessory that every woman needs is a Personalised Name Bracelet. This beautiful wrist accessory comes from Etchcraft Emporium. It can be customized with your initials! Its gold finish looks so premium that no one can tell if it is a real or artificial name bracelet. This versatile piece of jewelry comes in an adjustable design, ensuring the perfect fit no matter how big/small your wrist is.
Love Pendant Chain
No matter what style of jewelry you're looking for, there is an option at Etchcraft Emporium that will suit your needs. When it comes to everyday styling and accessorizing, delicate and dainty pieces of jewelry are the way to go. So, you must have elegant pieces like this love pendant chain. The chain is really sleek and comfortable to wear while the heart-shaped pendant is stunning and can be personalized with text of choice.
Silver Kada
The second must-have jewelry piece for any woman is this personalised silver kada by Etchcraft Emporium. It looks elegant and is very comfortable on the wrist, so you can wear it throughout the day easily and confidently. This sleek kada has glossy silver finish that ensures a nice touch to your look anytime. Additionally, it can be customized with initials that further add more uniqueness.
Stylish Ring
For women who like little accessorizing, this personalised ring is a great pick. You would like to thank Etchcraft Emporium for bringing such an astounding jewelry piece to the collection. Having a perfect width, it ensures comfortable wear. It is 22K gold plates ring that simply gives a feel of real gold ring. Additionally, its surface can be personalised for extra touch of beauty!
Choker Necklace
A choker necklace has been a favorite in jewelry for years. Therefore, Etchcraft Emporium has brought to you a lovely pearl choker necklace. This stunning piece is going to become your next fave, too! You will fall in love with its beautiful white pearls and premium gold-plated pendant. It's unique - just customize it with name engraving so you can wear this as a statements piece on special occasions!!!
Personalised Watch
Made to perfection, this personalised watch from the brand Etchcraft Emporium is another must-have accessory for women. The watch is designed using stainless steel for safe wear. Its dial is truly timeless to suit any personality. The Japanese Quartz movement plus mineral glass make its dial a classic of all times.
Car Keychain
Last but not least, every woman should focus on other fashion elements in their look such as a keychain. Yes, a stylish keychain like this car keychain is something that adds beauty to the overall look. It is indirectly related to women's fashion but is a sensible element for her. The car keychain has a lovely car-like pendant that can be customized with any number or text. Additionally, it has a safe hook to ensure keys safety all the time!
Final Words
These are the 7 must-have pieces of fashion jewelry. If you have these accessories in your collection, you won't have to struggle at all to accessorize on daily basis or for occasions.
---