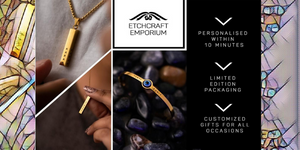 Etchcraft Emporium Is the Latest Male Fashion Trend
If you're a man who's looking to add a little bit of style to your wardrobe, you'll want to check out Etchcraft Emporium. This is the latest fashion trend for men, and it's definitely something different. Etchcraft Emporium offers accessories that are unique and stylish, and perfect for men who want to stand out from the crowd. So if you're ready to add some personality to your style, be sure to check out Etchcraft Emporium. You won't be disappointed!
What Makes Etchcraft Emporium Different From Other Fashion Stores?
In a world full of mass-produced fashion, Etchcraft Emporium is a breath of fresh air. They offer unique and personalized accessories for men that you won't find anywhere else. Whether you're looking for the perfect gift or a new addition to your own wardrobe, Etchcraft Emporium is the place to go.
Their talented staff will work with you to create a one-of-a-kind piece that reflects your personality and style as a man. So if you're tired of the same old thing, pay them a visit and see what they can do for you. Your experience will be truly outstanding!
Trending Male Fashion Accessories from Etchcraft Emporium
Adding a dash of style to any man's personality has now become an easy thing with the new and trendy range of make fashion accessories by Etchcraft Emporium. They have some of the best customizable fashion pieces in their collection to upgrade your style in seconds! Explore here without wasting any time…
Kada for Men
Introducing Personalized Silver Kada, the best-selling Kada for Men in their collection! This high-quality, stainless steel kada is perfect for men with any style preference. It's adjustable to fit any size. It's sleek and shiny with a glossy silver finish, making it an ideal fashion accessory to go with any outfit. It's non-toxic and safe to wear. Plus, you can have it engraved with your name or any other text you choose! Additionally, this kada for men is a great gift option for any men.
Name Bracelet
Here's the Personalised Classic Bracelet or Name Bracelet to make a statement! This elegant piece is made of 22-carat gold plated stainless steel and can be personalized with any name or word you choose. It makes an excellent fashion accessory for everyday or occasional wear and fits perfectly on any size wrist. The stylish glossy gold finish will add a touch of luxury to any outfit, making this name bracelet perfect for every occasion. 
Car Keychain
When it comes to improving your personality and look, there is a lot of other things that contribute other than fashion jewelry. One such trending item offered by Etchcraft Emporium is a Personalised Car Keychain. You can flaunt your style by attaching this car keychain to your belt loop. This car keychain is the perfect way to keep your car keys safe and stylish. The number plate is laser engraved on both the front and back of the keychain, ensuring that no one can mistake your keys for theirs. The shiny silver material is sophisticated and elegant, making this keychain the perfect addition to any set of keys.
Apart from these fashionable and trending accessories for men, there are hundreds of other products too in their collection. Make sure to check them out before they get out of stock!
---