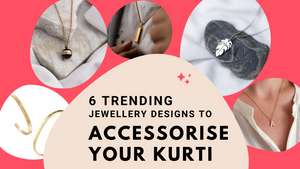 6 Trending Jewellery Designs To Accessorise Your Kurti
Kurtis are the perfect attire for all seasons, but how to accessorize to set a statement? We're here to offer some stylish solutions. This year's must-have trend is dainty jewelry with an ethnic flair that can be worn with any Indian outfit. Want to know how you can style these looks without breaking a sweat? Read on!
Beaded Personalised Choker Necklace
If you are looking for a neckpiece that can upgrade the look of your heavy or partywear Kurti, this beaded personalised choker necklace from our collection can steal your heart. It's just the right piece of neck jewelry that you don't want anything else to accessorize your Kurti. Whether it's your Indo-western Kurti or a traditional one, this is the masterpiece you have to get it!
Talking about the details of this necklace, it features a choker style that will straight draw the attention of the people to your beautiful neckbone. Its little stainless steel 22-carat gold plated pendant makes a stunning combination with white pearls. Moreover, it can be laser engraved with the text of your choice for a little customization!
Minimal leaf pendant Neck chain
The second jewelry design on our list is this minimal leaf pendant neck chain. This particular pendant chain is an ideal choice for casual or formal Kurtis. Apart from being stylish, the leaf pendant symbolizes growth and hope. Thus, it keeps you motivated on daily basis.
The neckchain is 20 inch long, which is the right length for casual outfits. However, it can be adjusted to 18cm with the help of a customizable hook. The beauty of the leaf pendant is extended by the initials on the right and left sides. You can find this personalised leaf pendant chain in Etchcraft Emporium's collection.
Trendy Signature Bracelet
Don't forget to accessorize your wrists when wearing Kurti. A bracelet is something that can instantly improve your look. The personalised Signature bracelet has astonishing finishing and beautiful design. It boasts a sensational honeycomb pattern with 23-carat gold plating. The trendy and minimal design of this wrist accessory is great for everyday use. Additionally, customize it with initials on the honeycomb blocks.
Elegant Classic Ring
Define your look in Kurti with an elegant classic ring by Etchcraft Emporium. This piece of jewelry from our collection is truly stunning in terms of both quality and design. Its sober yet fashionable design makes it a perfect daily-use jewelry piece. The 22-carat gold plating on the surface extends a luxurious appeal to it. You can get anything laser-inscribed on this beautiful ring to make it yours.
Pretty Pearl Stud Earrings
Your casual, formal, or party look in Kurti is incomplete without earrings. This is why stylish earrings are our next jewelry idea for you. Of so many options, we suggest you getting pretty pearl stud earrings. Pearls are evergreen fashion elements. Therefore, you can go for them any time of the year.
Beauteous Brooch
If you want to add a touch of fashion to a minimal Kurti, you should get a beautiful brooch to accessorize it. Nowadays, there are so many brooches available in different designs and finishes. From pearl brooches to rhinestone brooches and everything in between, you can choose the one that matches your style and complements your Kurti. This is a kind of DIY Kurti styling hack too!
Conclusion 
If you have been struggling to find the right yet trendy jewelry for your Kurti, the ideas we've shared are a great place to start. It's easy for us to take these seemingly small details so seriously because they can make or break an outfit! What other ways have you found to successfully complement Indian clothing? Share your comments below.
---