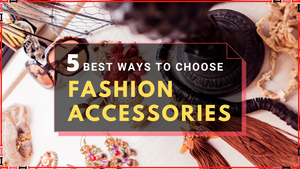 5 Best Ways to Choose Fashion Accessories
Do you like to wear accessories?
If so, then you're in luck! There are tons of different types of fashion accessories out there that can help make your outfit look great. The only problem is figuring out which ones will work best for you. Luckily, we have some tips on how to choose the right fashion accessories for yourself.
First off, it's important to know what kind of style you want before buying any new pieces. For example, if you like a more classic look with clean lines and simple designs then maybe a scarf or belt would be good choices for you. On the other hand, if your style is more edgy and unique then maybe something like earrings or rings would fit better into your wardrobe. Once you know what type of styles suit your taste best it becomes much easier to pick out new items that will match well with everything else in your closet! Now let's get started on these 5 tips…
Go for Signature Fashion Accessories
If you are confused with so many accessory choices, pick up just one accessory that looks great and can pair well with multiple outfits. While dressing and accessorizing, consider one piece to make a statement with your look in terms of color or size, then combine more elegant accessories to complete the look.
The personalised signature bracelet from Etchcraft Emporium's collection can be statement jewelry pieces for you.
Focus on Patterns and Colors
Fashion accessories can add a pop of color to any simple dress effortlessly. Bright colors like fuchsia pink, fluorescent orange, etc, and complex patterns like animal prints can be hard to add to your wardrobe. However, vibrant yet fun fashion accessories like animal texture belts, funky shoes, and a bright scarf can enhance your appearance completely.
Keep the Occasion in Mind
Finding the right fashion accessories becomes easier when you keep occasions in mind. Not all accessories are suitable for all events and places. For example, your formal accessories will be a lot different from accessories for a dinner party. Some accessories that can help you transform your look for different occasions with the same outfit. A stunning black dress can boast a formal look when combined with flats and a blazer. On the other hand, you can get a party-ready look with the same black dress by simply changing the accessories. Yes, many women are using this trick to style up themselves. By adding an elegant pearl necklace like the one offered by Etchcraft Emporium, you can get a stunning party look.
Matching is not always necessary
If you want yourself to look fashion-forward, then you have to overlook the conservation style of matching accessories. Today, contrast combinations are trending. That's why you should try to experiment with bold colors to get a new look every time. For this, the color wheel will help you to find the right contrast color accessories for your outfits.
Try to Balance the Accessories
The concept of "Less is More" is true to a great extent when it comes to fashion and accessories. In an attempt of looking fashion-forward, you may sometimes over-accessorize yourself that can make you appear unpleasant and gaudy. On the other hand, pairing no to very less accessories is also not an option. Therefore, you should always try to balance the accessories for an appropriate and trendy look. For example, if your fingers are small, then big rings are not for you. They will make your fingers even smaller. So, you can go for a ring that is small yet beautiful like Etchcraft Emporium's personalised classic ring.
Conclusion
With these 5 tips, you can find the right fashion accessories for yourself. Do not hurry while buying accessories otherwise, you will end up buying inappropriate pieces. Take your time and look at your dresses and analyze which kind of jewelry will go with it.
We hope you find these tips helpful.
---