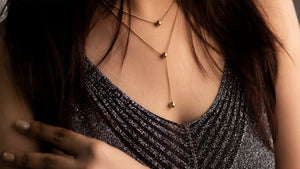 TOP 5 DRESSES TO STYLE YOUR LAYERED NECKLACE WITH
Unless you are on a social hiatus you would have noticed "the layered necklace trend" just everywhere. Whether you wish to adorn yourself with the classic glam of traditional attire or the sheer elegance of a western up do, these cute necklaces will only enhance your look. Do not limit layered necklaces to a selective casual look. We are here to up your fashion game with some of the most unique and gala dresses you might have ever encountered. 
GLITTERY SEQUINS COCKTAIL EVENING DRESS:
Wine glasses clinking, dim lights showering all and pretty flowy gowns brushing the floors - just imagine. A story like scenario and you are the main character with the most eye catching jewel combination! No matter, how beautiful a dress is, there always seems to be something missing if you don't pair your accessories right. Etchcraft Emporium has beautiful designs you will need to put your layered necklace dream in action. It will get the audience's attention without underestimating either of the two beauties.
BACKLESS KNOTTED FISHTAIL MERMAID DRESS:
Adorn yourself elegantly with the newest release of our layered necklaces.
Think about how it would be to wear classy mermaid tale dress with a layered necklace. Bring the two different worlds together by matching up the blue sea like dress with our Marion layered necklace.
RHINESTONE THIGH SLIT BODYCON DRESS: 
Bring out your sexy side with an equally sexy dress. Show off your moves with the aquamarine rhinestone dress that'll match perfectly with our golden glowing layered necklace. Perhaps, wearing it would be a cherry on top. But what we can guarantee is that all eyes would be on you for one and only reason- Perfection. 
CONTRAST MESH DRAWSTRING SLIP DRESS:
It is agreeable that this mesh dress is extremely creative, but so is our necklace. This blast of a combination will turn all eyes as you walk. The dress may be a "slip" dress but don't let your confidence "slip" away from you while experimenting with the intrepid designs our brand provides you with. Be the bold you everyone aspires to become. Be a fashion icon with this dress. Who knows it might be just another Instagram trending pair.
RUFFLY SHIRRED BELTED A-LINE DRESS:
   Just thinking about the name out loud brings feathers to your mind, doesn't it? Well, brace yourself because we have the right collection that'll "flow" well with you. Our layered necklace would make the perfect fit and only enhance your personality more. Do you want to customize it your own way? Well Etchcraft Emporium has that option as well. It's just your call we are waiting for. 
---