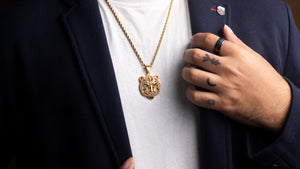 When Is It That You Know You Have Worn the Perfect Number of Accessories
Accessorizing is the best way to add zing to your outfit.  Including the appropriate accessories in your outfit only enhances its look so why not give it a try!? But we must also keep in mind; accessories play the role that salt plays in food. Too much of it is unbearable and ruins the food and its emptiness is even worse. Similarly too much jewellery will ruin the actual look of the dress which might have been perfect otherwise. No jewellery at the same time would make it feel incomplete.
So it's important to know how much and what type of accessories you can use that will give off the perfect look you want.
Firstly it is very important to consider the occasion you are going for. It is the major factor on which your dressing style depends the most. For example, heavy jewellery sets are common when attending a wedding. At the same, time minimal and simple accessories are preferred when attending a gathering or going for dates. 
You need to make sure that your accessories and sets aren't taking all attention away from your clothing. If you are wearing a trendy top, you would want to match it with a more somber kind of accessory. Further, if there is already too much work done on your clothing, you should pair it with a more calming set of jewellery which would balance it out.
You should always be comfortable with whatever you wear. Wearing too many accessories everywhere and not being able to carry it off only makes a person look clumsy. You definitely wouldn't want to go for that! Whatever accessories you choose to wear shouldn't feel like a burden to you but add on to your confidence.
Don't go full on matchy thing as it would come off as a tacky look. Whenever matching your accessories, make sure to bring in variations. This would give off a good look and show your good fashion insight to other people. Even so, too much of a mix and match would result in disaster, so always balance it all out while planning.
It's time to experiment with fashion. Try on the trend of layered necklaces. Play with the length and size of necklaces to form a pair of yours. You could also give a try and buy multiple bracelets which are sold together in the market. If not, make one with the ones you have. These can never go wrong once you get the knack of it. 
All in all we have just one thing to say. The fashion world is too big and experimenting with it could bring great results. Rings, necklaces, anklets and what not. Even perfumes, footwear, glasses, etc add up to your dressing and accessories part? It's not always necessary to wear tons of them to make it look good. Even one accessory can act as a statement piece and make your outfit 'good to go'. You just need to bring out the bold self in you and let it rule!
---
1 comment