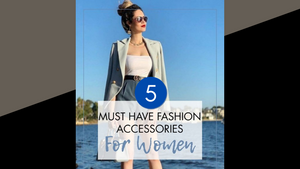 5 Essential Fashion Accessories Every Woman Should Own
Every woman needs to have some essential fashion accessories in her closet. These accessories are the basics that every woman should own. From trendy jewelry to comfortable shoes, every accessory adds to her outfit and look. Today, we will let you explore those 5 essential fashion accessories that can take her any outfit from average to fabulous. We hope you will like our ideas.
1. Personalised Choker Necklace
The very first fashion essential for any woman is jewelry! There's no denying that there is something about wearing necklaces or bracelets that just makes her feel like she's putting together her best self. This is why we have one of the best necklace pieces in our store for you- a personalised choker necklace.
This necklace has something unique about it. From design to quality, everything is simply beyond expectations. The white pearl beading paired with a luxurious 22-carat gold-plated pendant makes it a statement. It is 43cm long which is an appropriate length- neither too short nor too long. However,  if you're someone who loves short necklaces, then you can always shorten it using the adjustable hook. Moreover, the pendant can be customized with any preferred text. There are so many reasons for which every woman would love to style herself with this elegant piece of jewelry.
2. Personalised Signature Bracelet
Next up is another piece of jewelry- a Personalised Signature Bracelet. This is one of the best-selling fashion accessories from our collection. And, the reasons are many for its high number of sales. Firstly, it features an iconic look and a stunning honeycomb design. Secondly, its 23-carat gold plating leaves no chance to steal the hearts of women out there. Lastly, you can make this bracelet enviable by personalizing it with your initials on the surface. We are sure you don't want to miss out on such a stylish piece of wrist accessory.
3. Trendy Footwear
A pair of fashionable footwear is a must-have for any woman to get that completed look. Apart from being comfortable, the shoes should look stylish enough to bring spice to the entire look.  You should buy something that's not too simple nor too gaudy. From style to color combination, every aspect of your footwear should make a statement. The more versatile it is, the more times you can pair it with different dresses!
4. Sunglasses
A great pair of sunglasses complete the look to top off any outfit, whether it be casual or formal attire. It's not great to have sunglasses in every color imaginable so all you women out there must get a single and versatile pair of sunglasses that is perfect for all outfits and events. You must understand that not every sunglasses' pair suits every face shape, hair color, and skin tone; therefore, consider these factors while picking up one for yourself to set a statement outlook.
5. Handbags
Every woman needs a handbag, but it can be difficult to find the perfect bag. The options are endless and there is no one right answer for everyone. The only way you can find your best handbag is to focus on your requirements. A woman can have one or more handbags but to add to the list of favorite handbags, it should fulfil your needs. It should be spacious enough to hold your essentials, it should be stylish enough to catch compliments, and it should be good quality to last for the longest time.
Conclusion
Throughout the year, women keep wondering what her next fashion accessory purchase would be. Well, we have given you the 5 best fashion accessories that you must own to make your collection trendy as well as versatile.
---