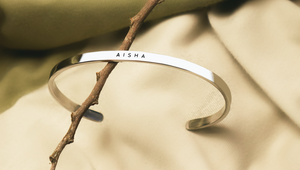 Which Colors does a Silver Bracelet go with?
People frequently struggle with how to respond to this question. But, it is not that difficult to answer! Silver is simple and has an everyday appearance, so it should go with anything, right? Well, maybe not. To co-ordinate how and with what you wear your silver jewellery, considering your taste and personal style is of utmost importance. We will cover both the things in this article.
One of the colors you can try with Silver is no doubt black. With black, you may wear any piece of silver jewellery and it will stand out against the darkness of the fabric. This color will complement your gleaming silver jewellery rather than detract from it. No cap, it's a metallic-based hue. It is similar to grey and goes nicely with all of its colors. This palette may seem to be too overwhelming but believe it, it will never be too much to handle.
The color also looks outstanding with white and grey. Well, officially they are just tints rather than colors. However, these colors contrast effectively with silver, making us aware of its presence. It's best to go big with grey and white - statement pieces work incredibly well in how they make a basic, even plain ensemble stand out, thereby providing a wow element to your apparel.
 If you don't need a standout item, another alternative is to stack and combine silver and golds. Both of these shining beauties belong to the same family tree and complement each other without stealing each other's essence. A basic Indian look is most likely to fit in the color palette. 
If you wish to present yourself in the realm of captivating royalty, a red hue shade box put against the purity of silver is your cup of tea. This imaginative shade shower highlights, calmness and determination - two very contradicting yet complementing qualities.
We have already mentioned that your style and persona is a major factor in color co-ordination. For the funky styled people out there, we officially announce blue and silver as your color combination. Whether it be a navy blue kurta you want to flaunt or a minimal feather earring, a silver bracelet is always the way to go. 
Don't forget, silver and mint green on your palette. Pairing silver with pastel colors like this brings the most out of it and creates a bright and cheerful persona. However, some other light shades of green and blue will play almost the same role.
Are you still in search of a sweet combination? Why don't you try pairing silver with pink? You may feel that silver is overpowering the color, so toning them down appropriately helps keep the essence of the combination.
Silver being such a versatile color has many color combinations and suitable palettes that create wonders. It's just a matter of fact that how you carry it and whether you have kept the proportions correct. Fashion is something you can experiment and play with. So, why delay anymore. It's go bold or go away!
---