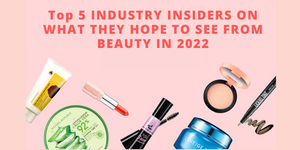 Top 5 INDUSTRY INSIDERS ON WHAT THEY HOPE TO SEE FROM BEAUTY IN 2022
The future of beauty is up in the air. There are so many ideas out there that it's hard to know what will happen in 2022, but these industry insiders have told Fashionista.com about their hopes and predictions for what they hope to see from beauty. What do you think?
1. Alisia Ford, Founder of Glory Skincare
Glory Skincare is a telehealth organization that encourages women of every complexion to put their well-being forward and choose the best for their skin. The founder of this Skincare brand hopes to see more improvement in beauty brands and products that are suitable for all.
Here are her exact words on her expectation from the beauty industry in 2022:
"I want us to normalize the reality that Black founders can create beauty brands suitable for all. I also hope to see more representation. We've improved, but we have more work to do."
2. Kristina Rodulfo, Beauty Content Creator
Kristina Rodulfo is one of the celebrated beauty content creators who have high expectations from mission-driven brands in the beauty industry in the upcoming year. According to her, beauty brands should focus on social welfare than just making profits.
Read her statement below:
"I hope we continue to see mission-driven beauty brands thrive in the industry. It's not enough for a beauty brand to focus on the bottom line of the business anymore. Beauty consumers care about social impact, too. There is a real desire for beauty brands with a deeper purpose than profit."
3. David Yi, CEO of Very Good Light
The CEO of the brand "Very Good Light" expects the beauty brand to think beyond hyperfemininity & hypermasculinity. According to him, the industry players and followers should break down societal philosophy of gender roles and their ability to do things.
May be his words can make you understand his hopes from beauty industry in 2022 more clear;
"I think it's time to shake up the beauty industry and break down barriers of hypermasculinity and hyperfemininity. We must challenge oppressive societal notions of gender roles and what we can and cannot do. I hope that in 2022 we can understand that there is beauty beyond the binary. That's my goal — fighting for space and gender inclusion."
4. Melissa Medvedich, Founder of Supernal
Supernal is a famous brand that offers botanically-based skincare products to support one's skin health. The founder of Supernal has high hopes from beauty companies in 2022 to use sustainable packaging to safeguard environment.
Here is what precisely she said:
"In 2020, Credo announced its sustainable packaging guidelines for all brand partners. As a consumer, I find clear and accurate instructions for the disposal of finished products immensely helpful. I hope to continue to see more of the beauty industry offer this facet of brand community education."
5. Tweety Elitou, Style Editor at BET Digital
Tweety Elitou said she really want to see improvement in products for a range of skin tones.
"In the upcoming year, I would love for beauty brands to showcase more diversity in product and lifestyle imagery. As an editor, I'm always given the news about products; however, I am often disappointed when the photos lack a range of skin tones."
Conclusion
These are statements of top 5 industry insiders on what they hope to see from beauty in 2022. If these hopes transform into reality, the upcoming year is going to be exclusive for both brands and buyers!
---