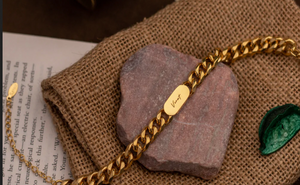 Top 5 Custom Name Bracelets for Men
In present times nothing you see is common. People have proved the intelligence of mankind and to what extent their thoughts can go. Personalized accessories, which has been quite a trend since the time it was introduced is one of them. Who could have thought that you could engrave and keep memories in such a way while being fashionable at the same time?
Giving personalized items as gifts, owing one for yourself, it's all very much hyped these days. Not only that, it's not just a couple items that can be personalized. Almost all of them can be, bracelets being the most common one. Even so, this can sometimes be a topic of confusion for people. The more the options, the more the dilemma! Second confusion starts when deciding what exactly can the bracelets be personalized into. So, we are here to up your game and bring forward to you some of the classiest and unique custom names to make your decision less complicated.
Personalized Evil Eye Bracelet
Unless you were on a hiatus, there is no chance you wouldn't have noticed the uproar of evil eyes in the market. Whether it is any jewellery item, almost everyone owes at least one evil eye item for themselves. So, why not go with the flow and personalize your favorite kind of evil eye on the bracelets. It will make an excellent fashion statement whether it's for occasional use or everyday use. You can go and try them out!
Personalized Classic Bracelet
Having personalized classic bracelet is just another thing that's in trend. Bracelets are something every man would love to wear on his wrist. Walking around with your bare personality in your hands, sounds fun doesn't it?!
Personalized Cuban Bracelet
Want to have your own specific style in action? Personalizing your Cuban bracelet might be the best option for you! These bracelets are the ones that have survived since the 70's and are more than just popular now. The interlocking pattern gives off a very attractive look with more masculine vibes than any other bracelets does. Play with the versatility of the bracelet and give yourself the look you deserve.
Personalized Brute Bracelet
Elevate your personal style with little to no effort. Personalize your brute bracelet and give off the prosperous look everyone envies. It will suit all the occasions whether it's a formal event or a party night! You could personalize with anything you want. It can be your name or a word that inspires you. It doesn't matter what it will be, the bracelet alone is capable of making up for any flaw.
Personalized Duo Link Bracelet
Give a boost to your confidence with one of the most commonly recognized types of bracelet- duo link bracelets. You could also personalize them according to your requirement. These bracelets have adjustable closure that will help them exactly fit to your wrists and give the firm setting you want. Even if you are new to this whole ordeal, it will act as a breath of fresh air amongst all the chaos. Definitely give them a try!
Adding a little style to every man's wardrobe is no harm. Choose any one of the above and you will be good to go! It will not only enhance your personality but also give off an elegant look to your outfit. Let go of the conservative thoughts and style and experiment with new looks. Who knows you might be the one making a fashion statement next, after all these social media leaves no one out of the loop!
---