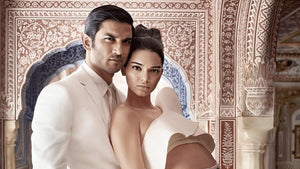 Times When Sushant Singh Rajput Proved to be a Man With Class
Sushant Singh Rajput has left a deep, indelible mark in our hearts. We still cannot get over him as he flaunts his full-fledged boyish charm in the Dil Bechara. However, we also loved him as he delivers the helicopter shot in the true MS Dhoni style in the movie, MS Dhoni: The Untold Story. There is or should we already say there 'was' a lot more to Sushant Singh Rajput than the acting chops.
He was a talent to reckon with and was famous for his keen sense of fashion to put the other A-Listers in check. It has been the reason for us to handpick a few golden times when Sushant proved himself the Man with Class!
Vogue India Shoot with Kendall Jenner
Source : Vogue India
The photoshoot was for Vogue India's 10th anniversary. It was when posing with the famous supermodel, Kendall Jenner, in the Hotel Samode Palace, Jaipur. The photos show Sushant in a white suit and sleek brushed back hair. We could not take our eyes off him in these photos though Kendall was also there in equally fashionable outfits.
Lakme Fashion Week
Sushant loved wearing well-fitting jackets and felt that they complemented the looks of any person. So, perhaps this was one of the quirkiest looks by Manish Malhotra that he pulled off like a pro! He wore the double-breasted mustard green suit while pairing it with a white T-shirt and sassy pair of tasseled loafers. The look was funky, and his spiked hair also did its best to add one more notch to this already on-point look.
Flying Machine Jeans Ad
Source : Flying Machine
The Flying Machine jeans ad could not have been better ever! Sushant looked every bit the smart young man, hanging out with friends. The grey pair of jeans, a matching faded t-shirt, justified this look. The checkered shirt slipped on as a jacket only made us look back at this stunning person. No one could represent the casual look better than Sushant ever.
Bata
Source : Bata India
As a face of the Bata shoe brand, Sushant tried doing the casual look with exceptional sportiness. The orange jacket and the black joggers with a white pair of shoes, all gave the happy vibes you needed in life. As Bata was rebranding itself as a casual footwear brand, they could not have chosen a better model or actor than Sushant! His photoshoot for the ad is definitely as much delight.
Completely Casual Looks
Source : Still from IIT Bombay Speech
Sushant has tried experimenting with t-shirts. The t-shirts saying "No Photos Allowed" as he was spotted at a public spot was on the face. If you find this amusing, check out his "Comfortably Single," putting an end to relationship status after breaking up with his girlfriend, Ankita Lokhande. The speech at IIT Bombay about how he became what he became has become even more inspiring now. It truly "made sense".
We have always admired men who flaunt their eclectic styles. We have definitely been in awe with the fashion icon, by the name of Sushant Singh Rajput. 
---
1 comment