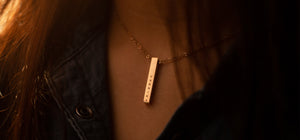 How to Style Your Name Pendant
Name pendants are a great way to add a personal touch to your jewelry collection. These necklaces can be customized with your name or the name of a loved one, making them a special and unique piece. But once you have your name pendant, the question arises: how do you style it? Here are some tips on how to style a name pendant.
Keep it simple: A name pendant is a statement piece on its own, so you don't want to overdo it with other jewelry. Stick to simple studs or small hoops for earrings and skip the bracelets and rings.

Layer it: Layering necklaces is a trend that's here to stay, and a name pendant is the perfect piece to layer with. Try layering your name pendant with a longer necklace or a delicate chain for a trendy and effortless look.

Mix colors: Don't be afraid to mix metals when styling your name pendant. If your pendant is in gold, you can pair it with silver or rose gold pieces for a chic and modern look.

Dress it up: A name pendant doesn't have to be reserved for casual outfits. Dress up your pendant by pairing it with a formal dress or a blouse and blazer for a sophisticated look.

Make it the focus: Your name pendant should be the focus of your outfit, so keep your clothing simple and neutral. A white t-shirt and jeans or a little black dress are perfect options to showcase your pendant.

Personalize it: A name pendant is a personalized piece, so why not take it a step further by adding charms or birthstones that represent something special to you? This will make your pendant even more unique and meaningful.
In conclusion, a name pendant is a versatile and stylish piece of jewelry that can be worn in many ways. Whether you're dressing it up or keeping it casual, these tips will help you style your name pendant with confidence and flair. Remember, your name pendant is a reflection of your personal style, so wear it with pride and make it your own!
Also see -
---