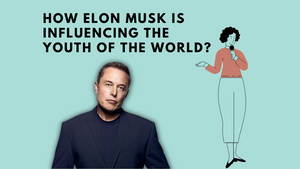 How Elon Musk is Influencing the Youth of the World?
Today Elon Musk needs no introduction. He is one of the most successful personalities in the world that might inspire the youth of today. He is the founder of the two most well-known companies, Tesla and SpaceX. Elon Musk is a real visionary and takes challenges towards changing the world. Recently, he has released the patent of electric cars, now anyone can use this technology.
Besides these Elon Musk is also known as a prominent supporter of cryptocurrencies such as Bitcoins. In recent days, he has tweeted a lot to support Bitcoin, and as a result, the price of Bitcoin has risen. However, one of the recent tweets of Elon musk on Twitter cost him around $15.2 billion in a single day. Also, the shares of Tesla slumped as much as 8.6%.
This happened as a result of Elon Musk's comment on the prices of Bitcoin, which do seem higher. This tweet surfaced online just after two weeks of Tesla's investment of $1.5 billion in Bitcoin. Tesla also announced that soon it will begin to accept payment for its products in Bitcoin.
Bitcoin's Rise and Tesla Investment
A few weeks ago, Elon Musk's company Tesla invested $1.5 billion in Bitcoin. The investment works well for Tesla, the stock prices of Tesla hits the mark of one trillion dollars for the first time. Not only Tesla, but Bitcoin also recorded a massive jump in prices. Bitcoin crossed the value of $58,000 per unit for the first time in history. This means Elon Musk tweets, youth listen.
On February 22, the value of Bitcoin recorded a sharp decline of 8 to 10% in the value. This slumped the value of Bitcoin from $58,000 per unit to $53,000 per unit. As a result of this sharp decline in Bitcoin, Elon Musk no longer owns the title of the world's richest man.
Elon Musk Twitter Timeline
Elon Musk, one of the richest men in the world, has shown a passing interest in cryptocurrencies, especially in Bitcoin. Over time, Elon Musk tweeted a lot about Bitcoin, most times his tweets impacted the price of Bitcoin. 
Here is the Twitter Timeline of Elon Musk on the Bitcoin:
On January 29, 2021, Elon Musk has written #bitcoin in his Twitter bio. As an impact of this, the price of Bitcoin recorded a 14% surge in its price.
On February 1, 2021, Elon Musk tweeted on his timeline, "I am a supporter of Bitcoin. Bitcoin was on the verge of getting broad acceptance".
On February 4, 2021, Musk tweeted a doge, in a reply to a cryptocurrency meme. He also said that "Dogecoin is people's crypto" and "I am become meme, Destroyer of shorts".
On January 10, 2020, Musk posted a tweet on his timeline saying "Bitcoin is not my safe word".
On December 20, 2020, Elon Musk tweets "Bitcoin is my safe word. Just kidding, who needs a safe word, anyway". 
On December 20, 2020, On Twitter Musk exchanged a few tweets with Micheal Saylor, who is an advocate of cryptocurrency. Musk asks about the possibilities of converting Tesla's transaction in the form of Bitcoin.
This is how Elon Musk remains active on Twitter and actively tweeting about cryptocurrencies. These tweets impact a lot on the value of Bitcoin.
Elon Musk, an Inspiration for the Youths
Elon Musk continues to be an inspiration for the youth, as he is the man with the passion. Elon Musk says that if you think that something is very important to you, you should do it no matter if the odds are in your favor or not.
---