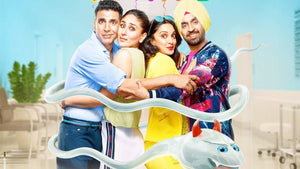 5 Bollywood Men with Class Stepping Up for Our Men with Grass
The ongoing farmers' protest in India achieved national support not just from common people but also from Bollywood stars, singers, and sportspersons.
Everyone in the country has a common appeal to the government to quickly take an action on the farmers' requests so this protest can end. While some supported farmers by visiting the protest site, others showed their support through social media. Different hashtags have been used by them, including #Delhichalo, #JaiKisan, #Standwithfarmers, #Farmersprotest, etc.
Here are 5 Bollywood men with class who stepped up for our men with grass. These actors from the Hindi movie industry have shown their concerns for the men who are the backbone of our country.
1. Riteish Deshmukh
Riteish Deshmukh, an Indian film actor, and producer extended his support for the men with grass by tweeting from his Twitter account @Riteishd.
Here are Riteish's words for our farmers on his Twitter feed:
If you eat today, thank a farmer. I stand in solidarity with every farmer in our country. #JaiKisan.
His message is a clear reflection of his opinion on this issue.
2. Vishal Dadlani
A famous singer Vishal Dadlani also addressed this issue and supported protesting farmers through his social media handle.
He appreciated the Sikh's kindness to the soldiers who attacked them to stop their protest. He also highlighted that farmers are protesting with peace and following the path of Satyagraha.
The heart-touching act of Sikh farmers made him write on his Twitter feed @VishalDadlani:
Sikh farmers who were served water-cannons and tear-gas, providing drinking water to the very soldiers who attacked them. The word #Sikh comes from the word for "disciple" but they are teachers of strength, courage, and the true meaning of #Satyagraha. #JaiKisaan
3. Kapil Sharma
The famous Indian stand-up comedian "Kapil Sharma" posted a message in support of farmers which is also a strong appeal to the government for resolving the issue with peace. He emphasized finding a solution with a peaceful conversation without turning the concern of the protesting farmers into a political issue.
You can read his message @KapilSharmaK9
किसानो के मुद्दे को राजनीतिक रंग ना देते हुए बातचीत से इस मसले का हल निकालना चाहिए।कोई भी मुद्दा इतना बड़ा नहीं होता के बातचीत से उसका हल ना निकले।हम सब देशवासी किसान भाइयों के साथ हैं। यह हमारे अन्नदाता हैं।#farmers
4. Guru Randhawa
Gurusharanjot Singh Randhawa, a popular Indian singer, and songwriter is another Bollywood man with class who took a stand for our men with grass.
Through his tweet @GuruOfficial, he appealed to the Indian government to sort out the bill with peace and showed support for all food providers.
Check out his message below:
Government should sit with the farmers and sort the bill. We all are from farmers families and I stand with our very own farmers

God bless our Farmers
5. Diljit Dosanjh
Diljit Dosanjh, a famous face in the Indian music and movie industry has been one of the impactful personalities who were appreciated by all for supporting the farmers' protest.
He not only tweeted messages and photos in support of farmers on his social media accounts several times but also appeared at the protesting site "Singhu border". In his speech for the farmers, he said, "I appeal to the government to pay attention to our farmers' demand. Additionally, he requested the national media to telecast the actual scenario that farmers are protesting peacefully. They are not fighting with weapons at all. So, don't show the situation by manipulating it. The whole nation is standing with farmers, but their support is much needed to make this protest fruitful."
Above all, he came forward not just with his words of support but also with monetary help for our farmers. He donated Rs. 1 crore to them so they can shop for winter clothes for all those who are protesting for their rights.
Recently, Diljit and Kangana indulged in a war of words when she mistook an old woman protestor for Bilkis Bano who was spotted at Shaheen Bhag. The verbal quarrel between them caught different reactions everywhere.
Most of these actors have been supporting the farmers from day one when the Parliament passed the new farm bills. Apart from these 5 Bollywood actors, many other celebrities expressed their solidarity for the farmers.
---